Intro to Little Dot Studios
This is the second year that we have officially reported on our gender pay gap and we have made significant strides over the past year. We are committed to building a diverse and inclusive culture at all levels of Little Dot Studios that encourages and values all voices.
We set out our DEI vision statement in 2021 to create a diverse and inclusive culture, where everyone is valued and has a voice, and we are committed to:
Equal gender balance across all of Little Dot Studios, including most of senior staff, by the end of 2024
Reducing and removing any gender pay gap across the business.
In April 2022 our mean gender pay gap in hourly pay is 9.2%. This has reduced from 9.8% in 2021
Our median gender pay gap is 5.4 %, representing a dramatic reduction from 11.1% in 2021. The national median for gross hourly earnings in 2022 is 14.9% (source: ONS).
We have improved our gender pay gap differential in three out of four pay quartiles:
We are delighted to have eliminated the gender pay gap in the lower quartile
We have significantly improved our gender pay gap in the upper middle and upper quartile, underlining our commitment to the progression of women into management and leadership positions
We still have further work to do in the lower middle quartile, where the pay gap has widened for women from 2021 to 2022.
We have improved our gender balance of employees. In April 2022 we have 330 employees, made up of 45% of women and 55% men. This compares to 295 employees in 2021, made up of made up of 41% of women and 59% men.
Women make up 42% of our leadership positions, which has increased from 38% in 2021.
The gender pay gap is the percentage difference between men and women's median hourly earnings, across all jobs in the UK. It is not a measure of the difference in pay between men and women for doing the same job.
At Little Dot Studios we pay men and women equally in the same or similar roles.
Gender Pay and Bonus gap report
April 2022

Mean

(2022)

Median (2022)

Mean

( 2021)

Median (2021)

Difference between men and women's hourly pay

9.2%

5.4%

9.8%

11.1%

Difference between men and women's bonus payments

48.3%

0.%

49.4%

0%
Factors that have impacted our gender pay gap are as follows:
Little Dot Studios continued to grow into 2022, in line with our significant growth in previous years. We continue to be successful in filling junior and middle management roles, in which we have eliminated the gender pay gap in lower quartile roles
We are confident our DEI initiatives will reduce the gap significantly in periods to come (and already has significantly at the time of publication).
Proportion of male relevant employee with bonus pay is 80.9%
Proportion of female relevant employees with bonus pay is 86.8%%
The mean variance in our mean bonus payment is due to a number of factors i) the gender imbalance in senior levels (where action has since been taken) ii) several one off bonus payments, and iii) non-bonus incentive packages applied to some staff.
We are pleased that our median bonus gap is 0%, reflective of the equity of pay within grades referenced above.
Pay Quartiles
In April 2022 we have a gender balance of 45% women and 55% of men.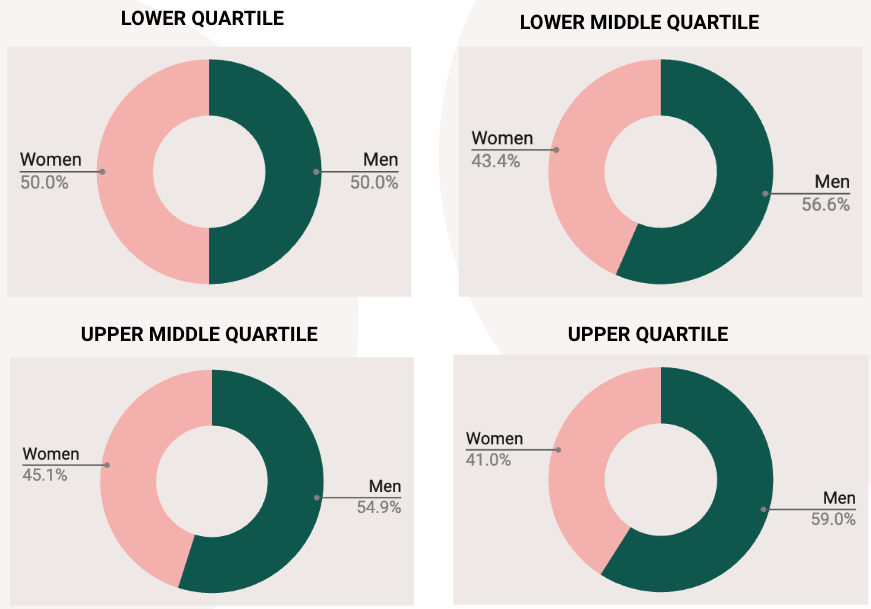 COMPARISON OF PAY QUARTILES - 2021 & 2022
TIME PERIOD

LOWER QUARTILE

LOWER MIDDLE QUARTILE

UPPER MIDDLE QUARTILE

UPPER QUARTILE

Women

Men

Women

Men

Women

Men

Women

Men

April 2021

47.9%

52.1%

45.9%

54.1%

36.5%

63.5%

33.8%

66.2%

April 2022

50%

50 %

43.4%

56.6%

45.1%

54.9%

41%

59%
| | | | | |
| --- | --- | --- | --- | --- |
| April 2021 differential | -4.2% | -8.2% | -27.0% | -32.4% |
| April 2022 differential | 0% | -13.2% | -9.8% | -18% |
ADDRESSING THE GENDER PAY GAP.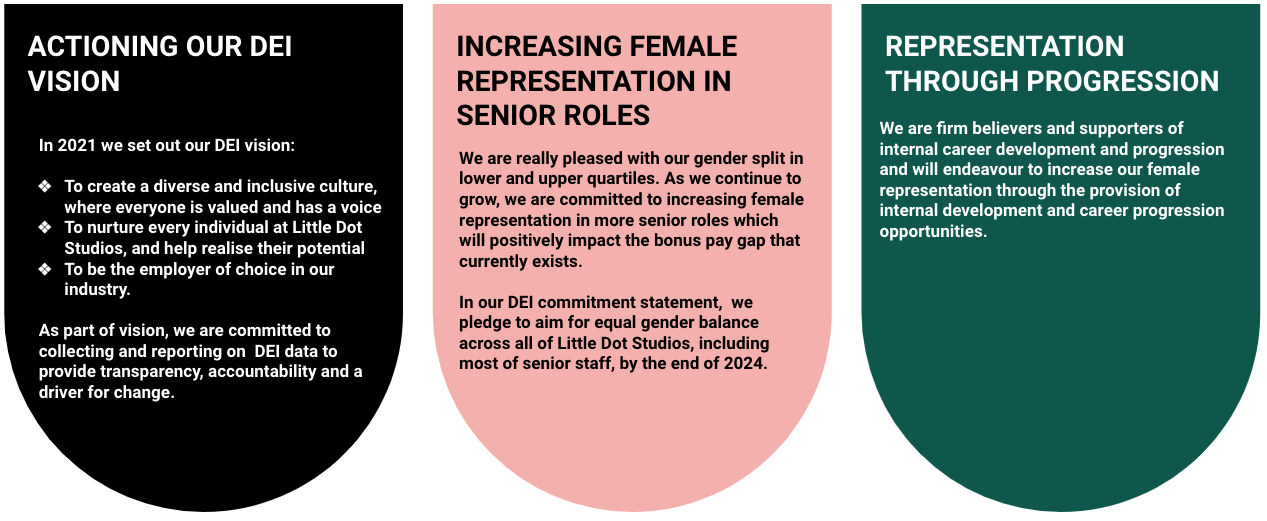 Confirmation
I confirm that our gender pay gap data has been calculated in accordance with the requirements of the Equality Act 2010 ( Gender Pay Gap Information) Regulations 2017.
Dan Jones
Chief Executive Officer
Little Dot Studios